Registration for this event has passed

Thank you for attending the webinar. A video recording will be available for review until Aug 31, 2021.
---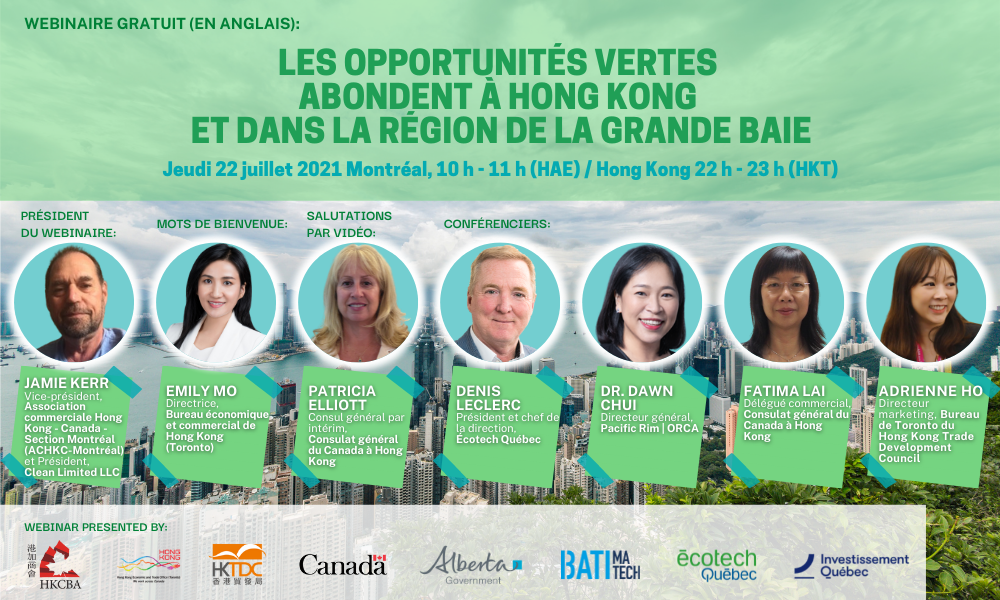 Webinaire : Jeudi 22 juillet, 2021
de 10h00 à 11h00 (HAE)
de 22h à 23h (HKT)
Table ronde avec période de questions-réponses.
La pandémie de COVID-19 a provoqué une crise sans précédent qui appelle des efforts concertés pour assurer une reprise verte afin de renforcer l'économie et de protéger l'environnement de manière intégrée. Les gouvernements du monde entier, y compris la RAS de Hong Kong et les responsables de la Chine continentale, ont saisi l'opportunité d'intégrer des politiques vertes et durables dans leurs plans de relance économique. À Hong Kong, les organisations et les entreprises s'efforcent d'améliorer leurs processus tandis que le gouvernement a dévoilé plusieurs projets durables avec un objectif global d'atteindre la neutralité carbone d'ici 2050. Le 14e plan quinquennal de la Chine continentale a mis l'accent sur le développement d'une économie à faible émission de carbone comme la mise en œuvre d'énergies renouvelables et intelligentes, avec un objectif d'atteindre la neutralité carbone d'ici 2060.
Cela signifie des occasions d'affaires pour les entreprises canadiennes de technologies propres qui aspirent à diversifier leurs activités en Asie.
Ce webinaire réunira des acteurs clés du secteur de la protection de l'environnement pour partager les derniers progrès en matière de travail de protection de l'environnement dans la région de la grande baie de Guangdong-Hong Kong-Macao, et un aperçu des opportunités vertes possibles pour les entreprises canadiennes. Les participants se verront également offrir une « fenêtre d'opportunité » pour les aider à penser l'Asie, penser Hong Kong d'une manière stratégique et efficace.
Aperçu du programme:
| | | |
| --- | --- | --- |
| Président du webinaire : | | Jamie Kerr, président, Clean Limited LLC (également vice-président de HKCBA-Montréal) |
| Remarques de bienvenue : | | Emily Mo, directrice, Bureau économique et commercial de Hong Kong (Toronto) |
| Salutations par vidéo : | | Patricia Elliott, consule générale par intérim, Consulat général du Canada à Hong Kong |
| Table ronde: | | Dre Dawn Chui, directrice générale, Pacific Rim | ORCA |
| | | Adrienne Ho, directrice du marketing, bureau de Toronto du Hong Kong Trade Development Council |
| | | Fatima Lai, déléguée commerciale, Consulat général du Canada à Hong Kong |
| | | Denis Leclerc, président et chef de la direction, Écotech Québec |
Remarques finales du président du webinaire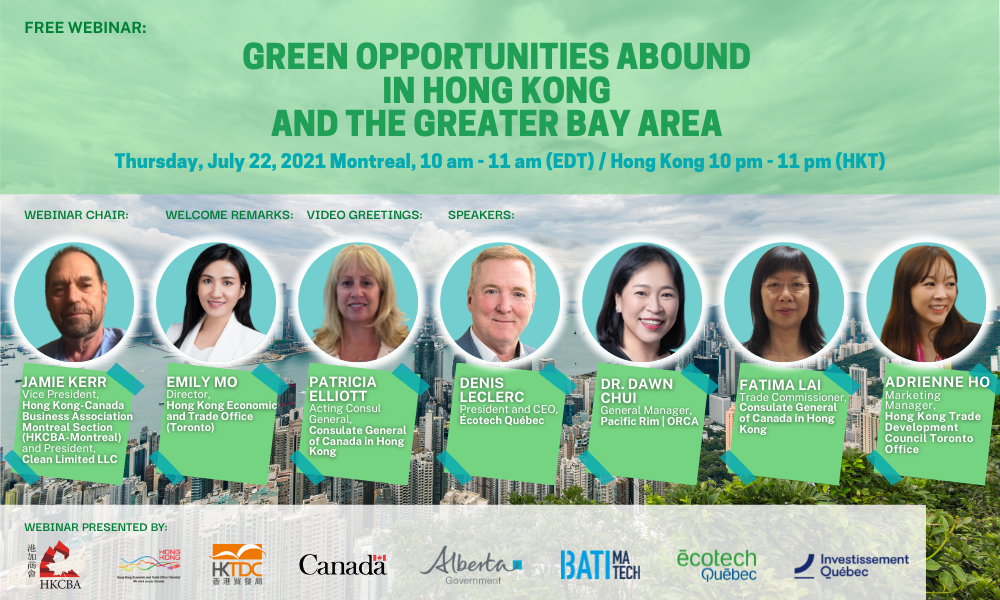 Webinar : Thursday, July 22, 2021
from 10:00 to 11:00 AM (EDT)
from 10:00 to 11:00 PM (HKT)
Round table discussion with Q&A period
The COVID-19 pandemic has brought about an unprecedented crisis that calls for concerted efforts to provide a green recovery for strengthening the economy and protecting the environment in an integrated way. Governments worldwide, including Hong Kong SAR and Mainland Chinese officials have taken the opportunity to integrate green and sustainable policies into their economic recovery plans. In Hong Kong, organizations and companies are striving to better their processes whilst the government has unveiled several sustainable blueprints with an overarching target to reach carbon neutrality by 2050. Mainland China's 14th Five-Year plan has emphasised the development of a low-carbon economy like the implementation of renewable and smart energy, with a target to reach carbon neutrality by 2060.
This means business opportunities for those Canadian clean tech companies aspiring to diversify their business to Asia.
This webinar will bring together key players in the environmental protection sector to share the latest progress on environmental protection work in the Guangdong-Hong Kong-Macao Greater Bay Area, and insights into the possible green opportunities for Canadian companies. Attendees will also be presented with a "window of opportunity" to assist them to think Asia, think Hong Kong in a strategic and efficient way.
Program outline
| | | |
| --- | --- | --- |
| Webinar Chair: | | Jamie Kerr, President, Clean Limited LLC (also Vice President of HKCBA-Montreal) |
| Welcome Remarks: | | Emily Mo, Director, Hong Kong Economic and Trade Office (Toronto) |
| Video Greetings: | | Patricia Elliott, Acting Consul General, Consulate General of Canada in Hong Kong |
| Panel Discussion: | | Dr. Dawn Chui, General Manager, Pacific Rim | ORCA |
| | | Adrienne Ho, Marketing Manager, Hong Kong Trade Development Council Toronto Office |
| | | Fatima Lai, Trade Commissioner, Consulate General of Canada in Hong Kong |
| | | Denis Leclerc, President and CEO, Écotech Québec |
Concluding remarks by Webinar Chair